Additional Services
"Live the lifestyle you deserve….let us show you how."
Before your guests walk through your door, they've formed certain opinions based on the appearance of your property. Just as your interior areas need regular updates and improvements, your landscape will also require periodic attention to maintain its appeal. Outdoor renovation, large or small, is a practical way to make a positive first impression, and to make a wise investment in your home or business.
Comprehensive Site Development and Landscape Architectural Services
Commercial, Residential and Public Landscape Architecture
Computer Aided Design and Computer Imaging Services
Design/Idea/Indoor/Outdoor Studio
Installation of Existing Plans
Environmental Solutions and Sustainable Landscape Plans
Storm Water Management, Drain Tile, Erosion Control
Shoreline Development for Waterfront Properties
Historic Restoration and Preservation Designs
Grading, Excavating, Trenching, Berm Installation
Paving Services – brink, concrete, cut and natural stone
Complete Fencing Installation – functional, ornamental, underground
Wall Installation – timers, field stone, cut stone, pre-engineered block
Wood and Synthetic Wood Structures- decks, gazeboes, arbors, pergolas, bridges, planters, railings, benches, sheds
Automated Water Wise Irrigation Systems
Water Feature Design and Installation- ponds, fountain, waterfalls
Aquatic Plants and Water Treatments
Garden Art and Sculptures
Outdoor Lighting/Sound Systems
Outdoor Kitchen Design and Installation
English, Victorian, Oriental, Kitchen and other Themed Gardens
Annual and Perennial Flower Design and Installation
Wildflower, Prairie, Naturalized/Native and Ornamental Grass Planting
Bed Edging – cobbles, brick, aluminum
Bed Mulching – hardwood, stone, recycled materials
Lawn Establishment – sodding, seeding, hydromulching
Tree, Shrub and Groundcover Planting
Transplanting
Wetland Design and Filtration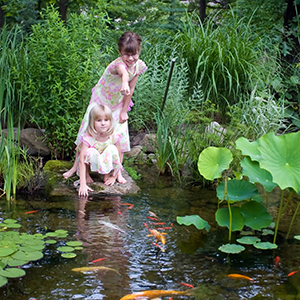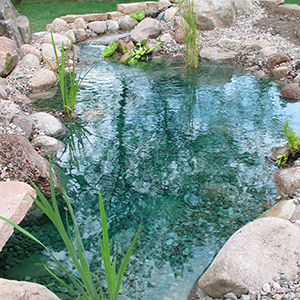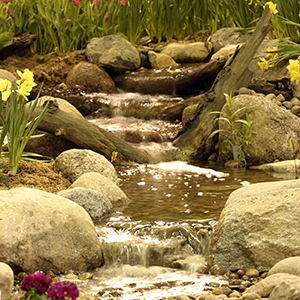 Using the latest technologies such as 3D animation and digital imaging, we are able to provide detailed plans that accurately convey our concepts. We then coordinate all aspects of production with our team of experts and use sequential outlines and regular progress reports for project management. We also understand that changes happen so we remain adaptable and address these situations as opportunities.
Our 30+ years of experience allows us to encompass cost engineering into our designs. Our work, albeit unique, is typically very cost effective. Our size factors into this as well. Our comprehensive resources include; planting, landscape management, construction, grading, masonry and carpentry.
We take pride in working proactively with our clients and responding quickly to any questions or concerns. The use of the latest technological and systematic tools from 3D design graphics to mobile communications enables us to provide you the highest level of understanding and confidence in our abilities.
Details are the cornerstone of every great project and part of our company culture. Every designer, service representative and subcontractor takes pride in the craftsmanship of their trade.
Our design-build approach simplifies the sequence of landscaping services and we assume full responsibility at each step for the final outcome. You will not have to deal with multiple contractors. A contract with Innovative Outdoor Services is a single, simple means to a beautiful end. Our goal, regardless of the size of your project, is to eliminate the stress of improving your property. Put our expertise to work for you now. Relax; know that the details, the budget and the time of installation have been worked out. Thank you for your time and consideration.