Landscape Enhancements/Renovations
Before your guests walk through your door, they've formed certain opinions based on the appearance of your property. Just as your interior areas need regular updates and improvements, your landscape will also require periodic attention to maintain its appeal. An outdoor renovation whether large or small, is a practical way to make a positive first impression and is a wise investment in your home or business.
Benefits of Landscape Enhancements
Landscape renovation is a cost effective way to get more useable, beautiful outdoor living space, without the high cost of moving or building
Outdoor renovation is a highly visible way to improve your image, add to your property value and enhance your enjoyment of your property
New concepts can result in a more modern and inviting look
A more connected, interactive way of living
Improving the appearance and value of your property
Bringing new life and interest to an older landscape
Installing maintenance lowering options such as a water wise irrigation system, edging, mulch or sustainable plantings.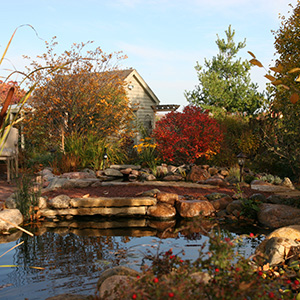 Whether you are thinking about buying, building or selling, or if you want to improve your image, property value and quality of life, landscape enhancement is a smart choice. Now more than ever, it makes sense to make the most of your home or business, and landscaping is a tangible investment that you can use and enjoy every day.
Entry Ways
Low Maintenance Deck Conversions and Development
Paving Design and Installation (stamped or textured concrete, aggregate, brick and natural stone)
Refinished Paving (staining, inlays, resurfacing)
Retaining and Seating Walls (lannon stone, snapped and cut stone, field stone, pre-engineered block systems)
LED, Security and Entertainment Lighting
Garden Music Systems
"Water Wise" Irrigation Systems and Conversions
Outdoor Entertainment Centers
Patio Kitchens
Fire Pits and Outdoor Fireplaces
Fencing (screening and architectural)
Sports and Play Areas
Shelters (gazebos, arbors, pergolas, etc.)
Garden Art and Sculptures
Water Features and Fountains
Ponds and Bridges
Drainage Solutions
Tree Care, Pruning and Removal
Enhancement Planting
Low Maintenance Lawn Improvements
Garden Rejuvenation
Flowerbed Installation (annuals, perennials, wildflowers)
Shade, Cut Flower, Kitchen and Herb Gardens
Naturalization (native plantings and wetlands or prairie restoration)
Groundcover Installation
Edging and Mulching
Sustainable Planting Conversions
Vertical Garden Walls (interior/exterior)
Bird and Butterfly Sanctuaries
Deer Resistant Plantings
Customized Landscape Management Services
Chemical Free Maintenance Solutions
Shoreline Restoration
Chemical Free Swimming Solutions and Renovations